You are here
RX7 Rough idle & lack of Power
This RX7 came in from Mazda dealer ship.
The customer had rough idle, and took it dealer ship, but they had it a couple of the day, but they can not find problem.
He also said that he replaced spark plugs and fuel filter a few weeks ago, prior to bring it to dealer ship.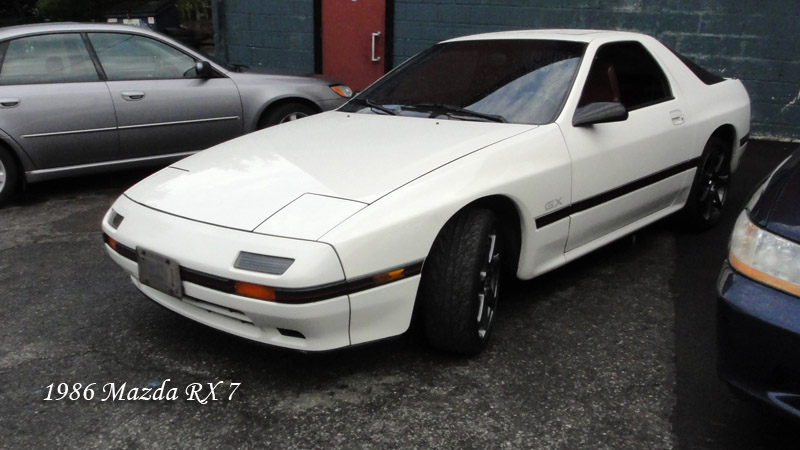 I had customer to fill out the Driveability-problem questionnaire sheet, and we road-tested together with customer. There is definitely rough idle, but aside from that the car runs well and smooth. but it did not have good power. There is something missing. We checked all the basic stuff, and did compression test. The compression reading were 90 psi and tester needle swing evenly on both rotors. They are good as a new ones.  The spark plugs looked OK (the customer said that he installed a few weeks ago).  The exhaust gas reading were HC=2 ppm, CO=0%, CO2=13.8% and it was clean burning.  We recommended to clean injectors and combustion chamber for maintenance reason too. Asked customer to drive at least for 40 km drive. He had the car for 2 years and drove anly less than 5,000 km per year.
The following week, the customer returned for further diagnoses.
Click this picture to view in live action.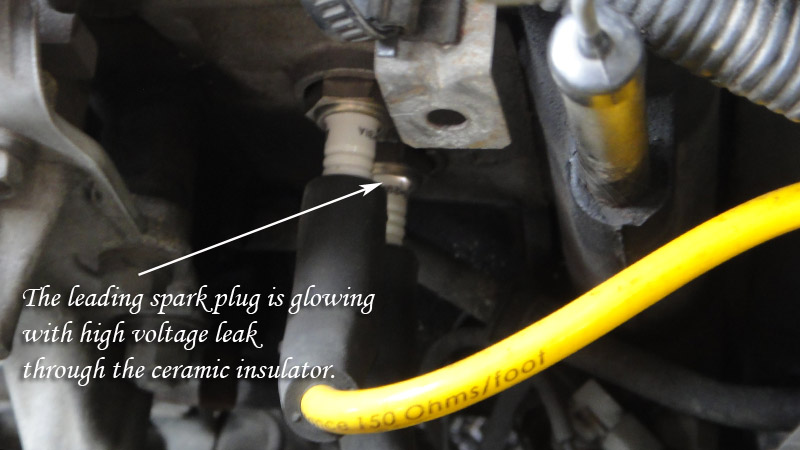 We are going to test injector pulse width and Mas air flow meter while we are driving. During this ny son noticed that Front leading spark plug was glowing with ignition high voltage. It is like highh voltage flash-over. We order the NGK spark plugs and inspected side by side.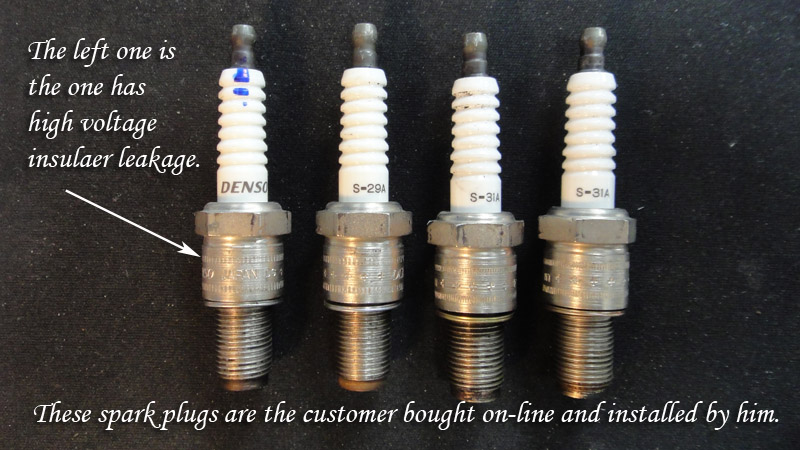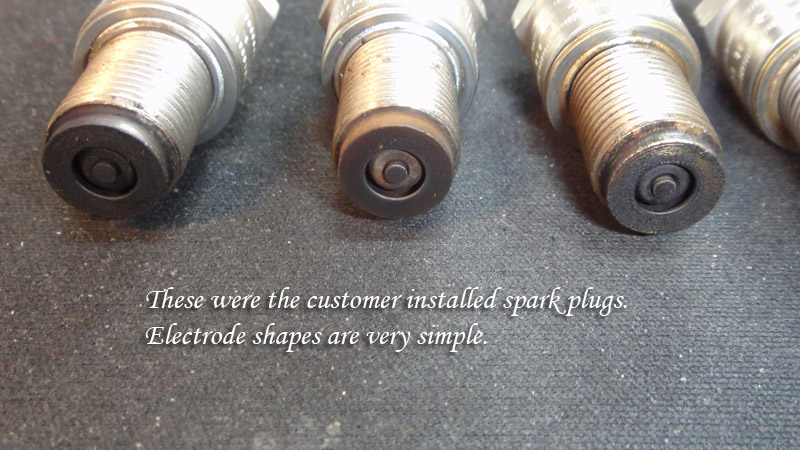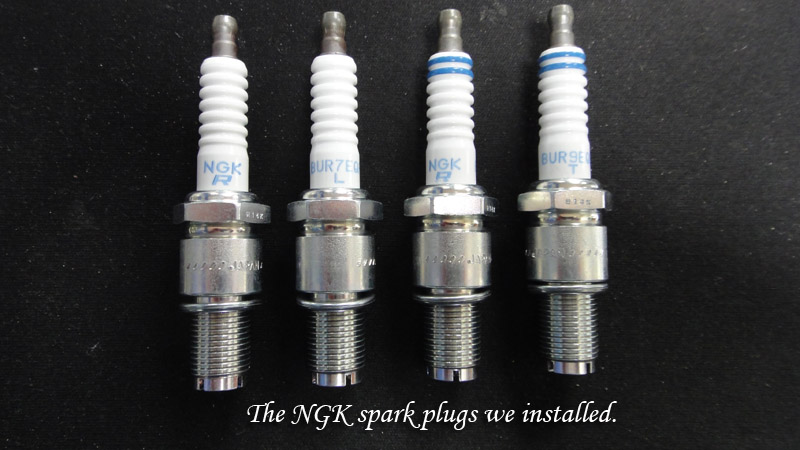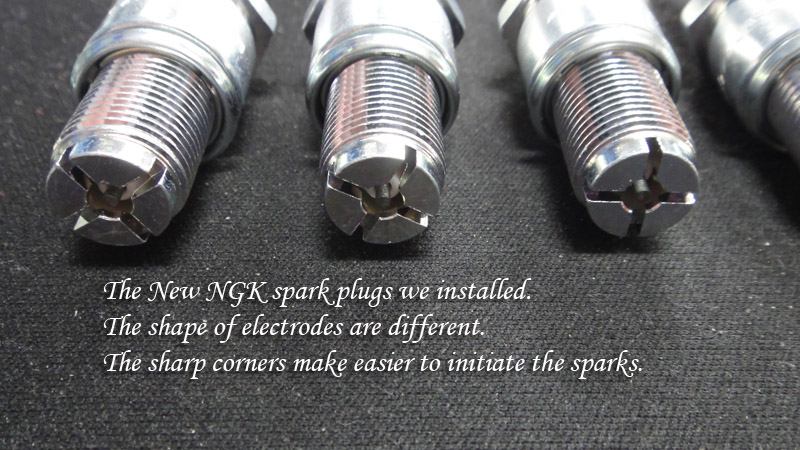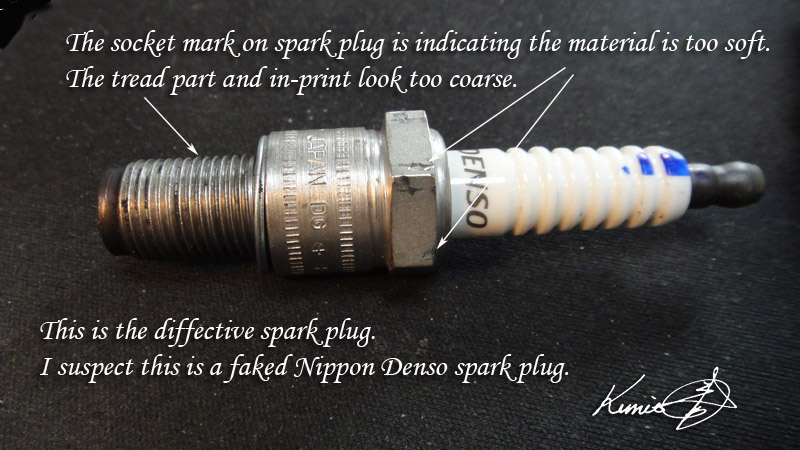 After closer inspection, the spark plugs the customer installed may be faked ones. We know that Nippon-Denso Spark plug are good as NGK. The way the spark was leaking was from inside ceramic insulator, It must be caused by inside where ceramic inslater fittings. I have been a technician for a long tim e, but this kind of miss-fire was first time. And usually ignition misfire would show in exhaust gas HC content. If it were normal car, then HC would read over 1000 ppm. But this is The Rotory Engine. There are 2 spark plugs ( Trailing and Leading) in one combustion chamber. And also the catalytic converter convert the small amount of excess HC to H2O and CO2.  High HC may not cause ignition misfire in Rotory Engine.
Here is the You-tube clip that I posted this RX7 Glowing Spark Plug.