You are here
Gas filling problem
Gas Fill-up Problem: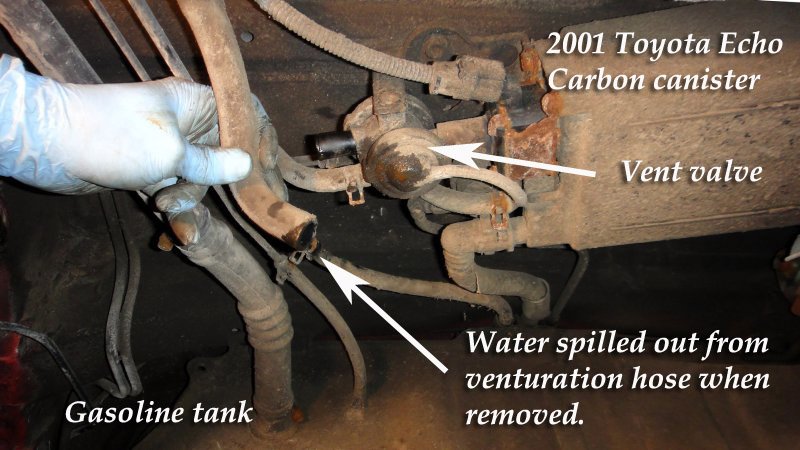 Recently, a 2001 Toyota Echo came into our shop with fuel fill-up problem. When she fills up, the pump automatically stops many times before she can fill up to the top. Sometimes, the stopping occurs 4 to 6 times. To help he problem, she has to resort to pulling the pump trigger lesser to control. We hoisted the car, inspected the problem area (fuel tank, filler neck). When we were testing all the hoses and control valve functions, we pulled off vent pipe -- and as soon as we did this, a small amount of water (about 2 ounces) came out. There should have no water here at all. We inspected for any cracks on carbon canister, it is OK. Also, the vent valve is OK. We blew the air towards the filler neck from vent pipe to clear the water and moisture, at that point, we noticed there was crack which was half around the vent pipe, near the connection to the upper fill pipe. The water is coming in from this small crack and is staying at the carbon canister. Since we are in the winter, the water will form to ice, and it is this that prevents gas tank vapor to escape normally through this pipe, therefore causing great difficulty when trying to fill fuel.
We can replace the filler pipe all together, but instead, to save, we will find some neoprene hose, and we will cut put the rotten section and connect it again with this hose in its place. We must use neoprene hoses, since fuel damages most other types of hoses.